Fresh air and improved fire safety for new nursing home
In a renovated commercial building in Valby, a new, modern nursing home will open its door in 2019.
When the 48 new residents move into the comfortable and welcoming nursing home - Valby Friplejehjem - it will be equipped with Genvex ventilation systems with improved fire safety termostats.
Developer Danske Diakonhjem is recycling the shell of a previous commercial building, but all interior parts and installations will be new. One of the new additions is a decentralised ventilation system, using the ultra-effective Genvex ECO 190 with a built-in fire safety thermostat.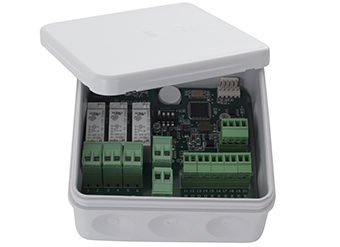 The installation at Valby Friplejehjem will be carried out by technical contractor GK Danmark. Martin Frederiksen, project manager at GK Danmark, says:
"ECO 190 is a fantastic system, and has the great advantage that it hardly takes any up space at all - and the maintenance openings are easy to reach. That means it can be installed both in attics and under suspended ceilings in buildings that don't have much attic space, which is the case in Valby Friplejehjem. In other words, the system perfectly suits the needs of this project – with the added benefit of an integrated fire safety thermostat to ensure fireproof exhaust channels."
Combined shaft for exhaust air
To save space, a combined shaft will be installed to transport exhaust air over the roof. Fire and smoke vents are installed in each apartment, to prevent fire from spreading via the exhaust channel . Erik Nergaard, sales consultant at Genvex, explains:
"The fire safety solution complies with the requirements of the building and fire safety regulation and the Code of practice for technical measures for fire, DS 428. The solution makes it easy to carry out the obligatory weekly self-test of the smoke vents and fire thermostat as required by law, as well as the annual check-up of the fire control system".
Caters to individual ventilation needs
A ventilation system using a decentralised insulation solution - like the one in Valby Fripleje hjem - can be controlled via a user-friendly display in each of the nursing home's 48 apartments. This means that every resident can adjust the ventilation in their own apartment, according to their own needs and preferences.
Energy effiecient system for all types of building
ECO 190 has a height of just 24 cm, making it one of the smallest ventilation systems on the market. Therefore, it is perfectly suited for smaller residential homes and businesses, where the space is limited. Furthermore, ECO 190 is very energy efficient: is has a 94% temperature efficiency as well as fans run on energy saving motors.
A nursing home for everybody
The new nursing home is privately owned by the Danske Diakonhjem. This means that anybody who as been appointed a place in a nursing home by their council, can apply for an apratment in Valby Friplejehjem - with no additional cost. Each apartment in the nursing home is between 35 and 50m², and there will be decentralised ventilation in all apartments.